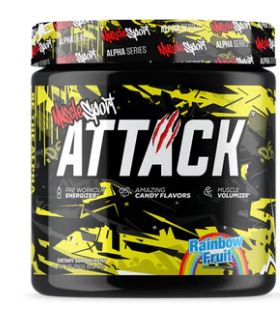 Musclesport Attack™ Pre-Workout
ANIMALISTIC PRE-TRAINING AMPLIFIER
10 Time-Tested Ergogenic Aids
Enhances Energy, Focus, Strength, & Power*
Prolongs Muscular Endurance*
4 Pump-Producing Compounds*
Clinically Dosed & Fully Transparent Label
25 Servings Per Container
Musclesport named our pre workout Attack for good reason - it will have you hitting the iron with full intensity from the minute you step in the gym until you pump out your last rep. This isn't your run-of-the-mill pre workout that over promises and under delivers.
When we say Attack will give you intense energy, skin splitting pumps, and razor-sharp focus, WE MEAN IT. After all, the proof is in the pudding. Take a close look at Attack's label and you will find research-validated, time-tested ergogenic aids dosed at clinical levels combined with cutting-edge compounds that will give the term, "total domination," a whole new meaning.
ANIMALISTIC PRE-TRAINING AMPLIFIER
10 Time-Tested Ergogenic Aids
Enhances Energy, Focus, Strength, & Power*
Prolongs Muscular Endurance*
4 Pump-Producing Compounds*
Clinically Dosed & Fully Transparent Label
25 Servings Per Container
We don't need to tell you that a pre workout can make or break your training session. Furthermore, nothing is more disappointing than spending your hard-earned money on a product built on hype that doesn't work.
With Attack you get everything you need to give you a pre-training advantage and nothing you don't. Research-backed, synergistic ingredients. Efficacious dosing. Innovative compounds.
Attack is a game changer that will boost your workout performance and help you push your limits further than you have before.