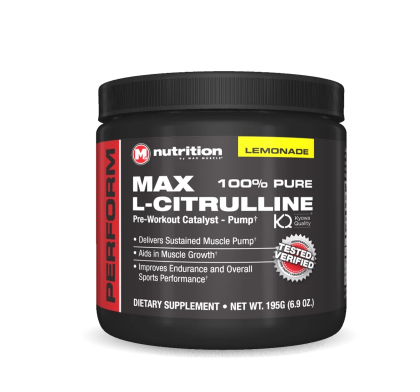 MAX L-CITRULLINE™
Blood Flow Support For Pump
    Supports and Sustains Nitric Oxide Levels†
Activator of Muscle Protein Synthesis†
Improves Endurance and Overall Sports Performance†
Helps Maintain Immune and Antioxidant Health†
Made with the Premier Ingredient L-Citrulline (Kyowa Quality®) From Kyowa Hakko Bio Co., Ltd.
Description
MAX L-CITRULLINE™
is a naturally occurring amino acid present in the body and functions as a potent precursor to the amino acid L-Arginine in the synthesis of nitric oxide (NO). Nitric oxide is an important modulator of blood flow by expanding blood vessels, plays an important role in muscle energy metabolism, and mitochondrial respiration during exercise supporting enhanced oxygen and nutrient delivery to muscle tissues.
Abundant published scientific studies have shown that L-Citrulline significantly improves nitrogen balance supporting muscle protein synthesis in a variety of sporting events from high intensity to endurance types. L-Citrulline has been shown in published studies to significantly improve muscle fatigue through ammonia elimination and mental concentration following exercise. An additional benefit is that L-Citrulline provides beneficial antioxidant function in dealing with reactive oxidative species or free radicals produced during exercise.