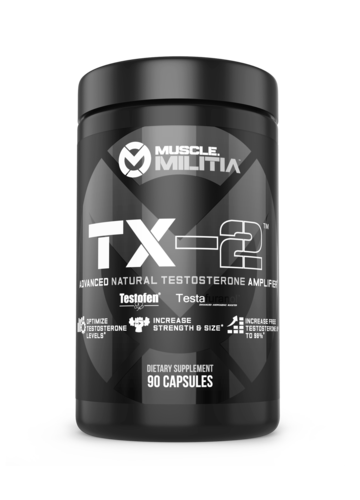 TX-2
ADVANCED TESTOSTERONE AMPLIFICATION
Increase Free Testosterone 98%*
Accelerate Muscle Hypertrophy*
Control Catabolic Hormones*
Support Healthy Androgen Receptors*
30 Servings
TX-2™ is a cutting-edge, clinically-proven testosterone boosting supplement with added androgen (testosterone) receptor support and estrogen control. Key ingredients, Testafuranol™ and Testofen® have been researched and observed to significantly increase testosterone and free testosterone while reducing conversion of testosterone to inactive 5-hydroxytestosterone.
The increase in testosterone and free testosterone from TX-2™ supplementation will help drive muscle hypertrophy and strength gains while improving muscle density and reducing body fat to result in a leaner and more muscular physique. Studies on the ingredients in TX-2™ have been found to:
Increase Free Testosterone by 98%*
Increase Total Testosterone by 52%*
Increase DHT by 31%*
Increase Rate of Body Fat Loss*
Increase Muscle Mass and Strength*
*These statements have not been evaluated by the Food and Drug Administration. This product is not intended to diagnose, treat, cure, or prevent any disease.