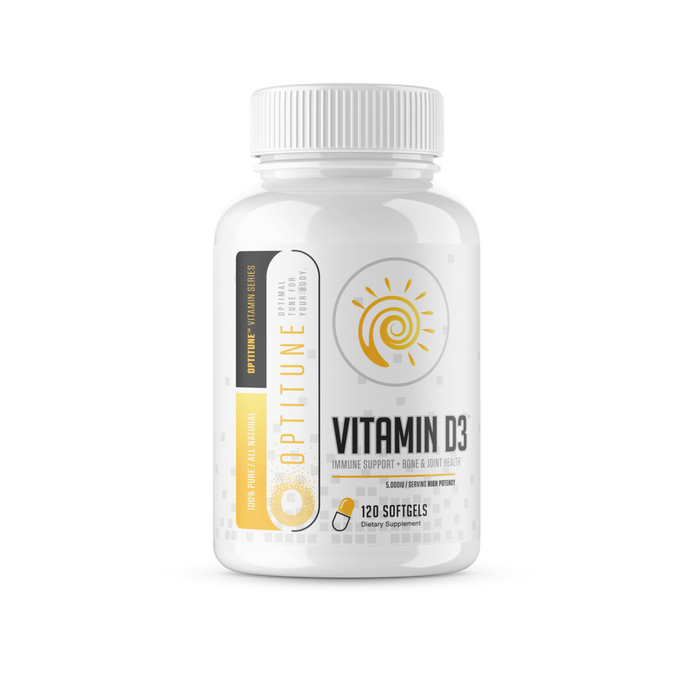 IMMUNE, BONE, & JOINT SUPPORT
Supports Healthy Hormone Levels*
Optimizes Bone Health*
Improves Joint Health*
Boosts Immunity*
5000 IU  per svg
120 Servings
Vitamin D3, cholecalciferol, is one of the 4 essential fat-soluble vitamins. It is the active form of vitamin D, which means that it is the only type of vitamin D that will be able to work appropriately within the body. Vitamin D has a cholesterol-based structure and acts more similar to a hormone than a vitamin, despite the name.
Vitamin D, along with calcium, plays a significant role in maintaining bone mineral density.*
Vitamin D is being researched for its ability to reduce risk of certain types of cancer.*
The signaling effects of vitamin D may enhance testosterone synthesis and reduce fat mass.*
With wide-reaching health implications, vitamin D has become a hot topic – specifically in regards to what the optimal levels of vitamin D intake may be. Agencies, such as the Institute of Medicine and the Endocrine Society, are at odds over the necessary amount of Vitamin D. At the upper end, the desired blood levels are attained with a supplemental dose of 5,000 IU – the exact amount contained in Vitamin D3™.